---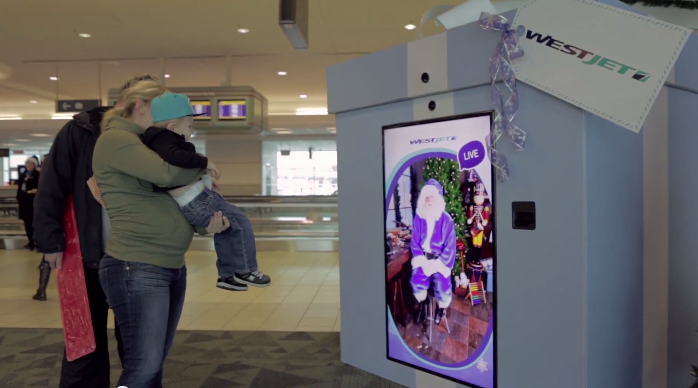 During the holiday season, it seems the best surprise most airlines can muster is a flight delay.  Or, if you're really lucky, a flight cancellation!  And that's part of what makes this story from Canadian airline WestJet so striking.
For the second year in a row, WestJet has enlisted its employees to engineer a "Christmas surprise" for some unsuspecting passengers.  Last year, it was a flash mob.  And this year?  Well, let's just say they raised the bar considerably.
WestJet set up kiosks at two airport boarding gates, one for a flight from Toronto to Calgary and one for a flight from Hamilton to Calgary.  Upon scanning their boarding pass at the kiosk, passengers were greeted, via video, by a purple-clad Santa Claus (purple so that kids could distinguish him from the real thing).
Santa greeted the passengers by name (he knew it from the boarding pass they scanned) and proceeded to ask what they'd like for Christmas.  Cute, right?
Then, as these two planeloads of passengers boarded for the four-hour flight to their destination, Calgary-based WestJetters (as the company's employees are called) sprang into action – engaging in a mad dash holiday shopping spree to get personalized gifts for each passenger.
Imagine customers' surprise when wrapped presents from Santa (each with their name on it) rolled down the Calgary baggage carousel upon their arrival.  Well, you don't need to imagine – just watch the video of it all:
Once you see this footage, it will perhaps not surprise you to learn that WestJet has collected an impressive set of industry awards over the past few years, recognizing the company for both its great customer experience and the workplace culture that stands behind it.
Through this stunt, alone, WestJet demonstrated some key principles that customer experience legends typically embrace:
Deliver pleasant surprises.  Assuming you've nailed the fundamentals, injecting a pleasant surprise into your customer experience can help distinguish your brand from others.  And, no, you don't have to give your customers a free big screen TV (as WestJet did for one of its lucky passengers).  Pleasant surprises can also be small, branded acts of kindness – a handwritten thank you note, an escort to the door, an occasional free product or service upgrade, etc.
Personalize the experience.  WestJet made clever use of technology, using a scanned boarding pass so Santa could address passengers by name (an unexpected surprise, all on its own).  Personalization is an important ingredient in a distinctive customer experience, as it makes people feel more valued – treated not just as another revenue source, but as a real person.  While technology can be a great enabler for such personalization, it's not the only avenue.  Something as simple as giving a customer your undivided attention, looking them in the eye, listening intently – these small gestures can all bring a more individualized feel to the experience.
Enlist your staff in a captivating mission.  The passengers on those two flights weren't the only beneficiaries of the WestJet Christmas Miracle.  Think about the employees who were involved in the project – how it made them feel to be part of something like this.  Heck, even WestJetters who weren't directly involved are probably standing a little taller today, proud to be associated with a company and a story that's generating such awe across the social media universe.  People like to be part of something that's bigger than themselves – a compelling, purposeful mission that makes them feel valued, appreciated and important.  Give employees that and they're far more likely to be vested in your business' success.  And that's something your customers will notice.
Hats off to WestJet for engineering such a memorable holiday experience for its passengers and its staff.  This is one Christmas Miracle that we can all learn from!
Jon Picoult is founder of Watermark Consulting, a customer experience advisory firm that helps companies impress customers and inspire employees, creating raving fans that drive business growth.  Author of "FROM IMPRESSED TO OBSESSED: 12 Principles for Turning Customers and Employees into Lifelong Fans," Picoult is an acclaimed public speaker, as well as an advisor to some of world's foremost brands.  Follow Jon on Twitter or Instagram, or subscribe to his monthly eNewsletter.